INCONEL is certified as per the ISO 9001:2008 Business Quality Standards for Modern Manufacturing Process.

These standards are strictly followed at INCONEL so that we can deliver the most reliable and field proven Flow Meter Solutions.

Scope: Design, Development, Manufacture and Servicing of Industrial Electronic Equipments, Vortex Flow Meters, Flow Measuring Instruments and Systems.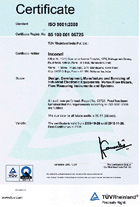 INCONEL ISO 9001-2008 CERTIFICATE 2012-2015
INCONEL QUALITY POLICY:
Our Goal at Inconel is Total Customer Satisfaction.
This will be achieved by providing Reliable Products & Services that meet the expectations & need of the Customers.
We will constantly check our own Quality in everything we do and carry out required improvements.
We strive to achieve the Goal through adherence to Quality Systems & total Employee Involvement.
INCONEL QUALITY OBJECTIVES:
To monitor manufacturing activity to achieve excellence of Product quality - Quality as perceived by the customer.
To perfect the quality standards achieved from time to time.
To maintain total transparency in dealings with customers and meeting customer's demands.
To strive to deliver to the customer the agreed products as per the agreed quality on or before time.
To train employees at all levels to achieve the quality objectives.